Whatever project we are currently working on, we have a few simple goals in mind: usability, standards-based construction, and clean, straight-forward design. But as they said on Reading Rainbow, "You don't have to take our word for it." Here are a few of our recent projects that illustrate our capabilities. Included are the project name, a description of what we did, a sample of the design, and a link so you can go look at the project in its original context.
Foursquare Builders
MAX First Place Award for Custom Builder Website
Description
Foursquare Builders approached us about making a website for them that would reflect the high quality they bring to every project. We built a custom WordPress theme for them that features a portfolio of their residential and commercial projects, latest news and industry certifications.
Link
Orlando Wakeboard Academy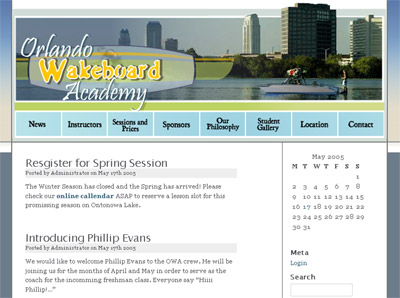 Description
We're currently working on complete update of this site. So far, we've added a Flash header (featuring some wakeboarding video they shot at the lake) and a scheduling module to help them arrange and organize their lessons and instructors. We have also added a wordpress blog so they can share upcoming events, new staff additions, and other news items quickly and easily with there customers.
Link: