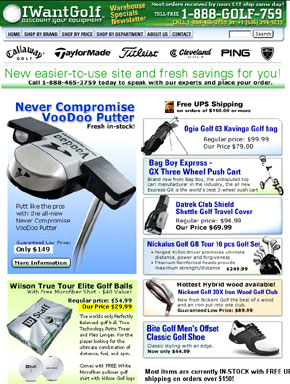 Finished the new newsletter for IWantGolf.com. Check it out at http://www.gdstl.com/iwantgolf/newsletters/20040422/20040422.html
Newsletter for IWantGolf.com
April 22nd, 2004
Nice article at A List Apart on project management and the necessity of understanding of the problem that needs to be solved at the beginning, rather than the end, of a project.
The Problem, the Balloon, and the Four Bedroom House: A List Apart
Many project managers believe a project has a beginning and an end. Everything that happens within those parameters can be dealt with by a methodology and a good framework of processes. What they forget is the emotional core of a project and the questions that need to be asked: Why does this project exist? What benefits will it have? What features will express these benefits? How will it make users more efficient, effective, and happy?
April 16th, 2004
Uploaded the new site template. We're still adding in the final content, but it should be all online in a day or two.
Let us know what you think by adding a comment below. Thanks!
April 5th, 2004